How do you feel about your body image?
We asked you and with over 7,900 responses this is what we learned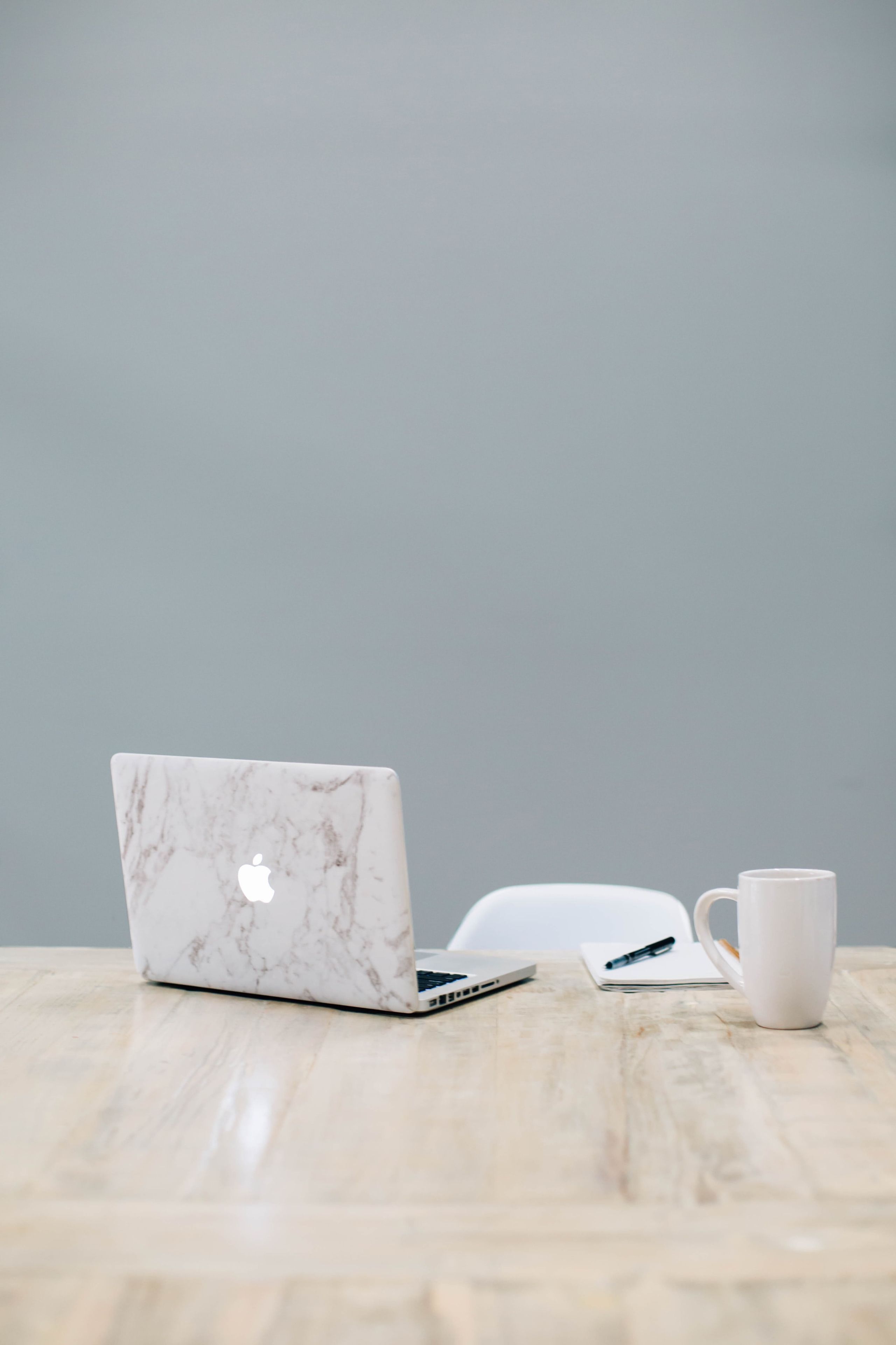 What did we want to know?
We, MPs on the House of Commons Women and Equalities Select Committee, were interested to hear about how body image impacts people across the UK in 2020.
Experts across the industry have written to us as part of our work on Changing the Perfect Picture: an inquiry into body image. We wanted to understand the state of people's body image in the UK, what impacts how people feel about their appearance and what changes can be made to improve body image for all. 
We also wanted to hear from people across the UK about their personal experience with their body image. We launched a survey to hear from different groups of people about their body image and what influences those feelings.
The survey received 7,878 responses and gave us 6 key messages as well as a variety of anecdotal information to help our investigation.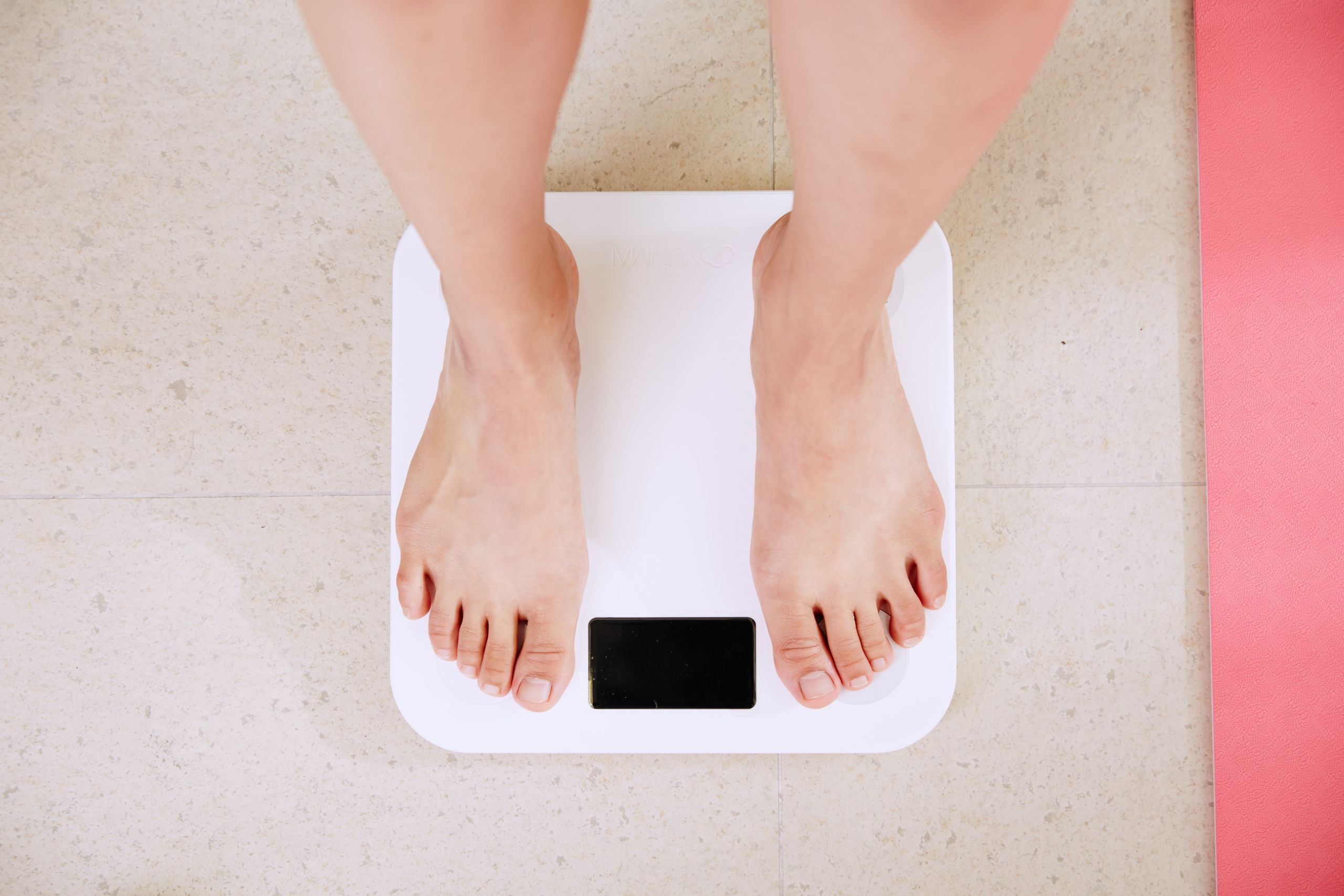 1. The majority of people feel negatively about their body image most of the time.  
61% of adults and 66% of children reported feeling negative or very negative about their body image most of the time.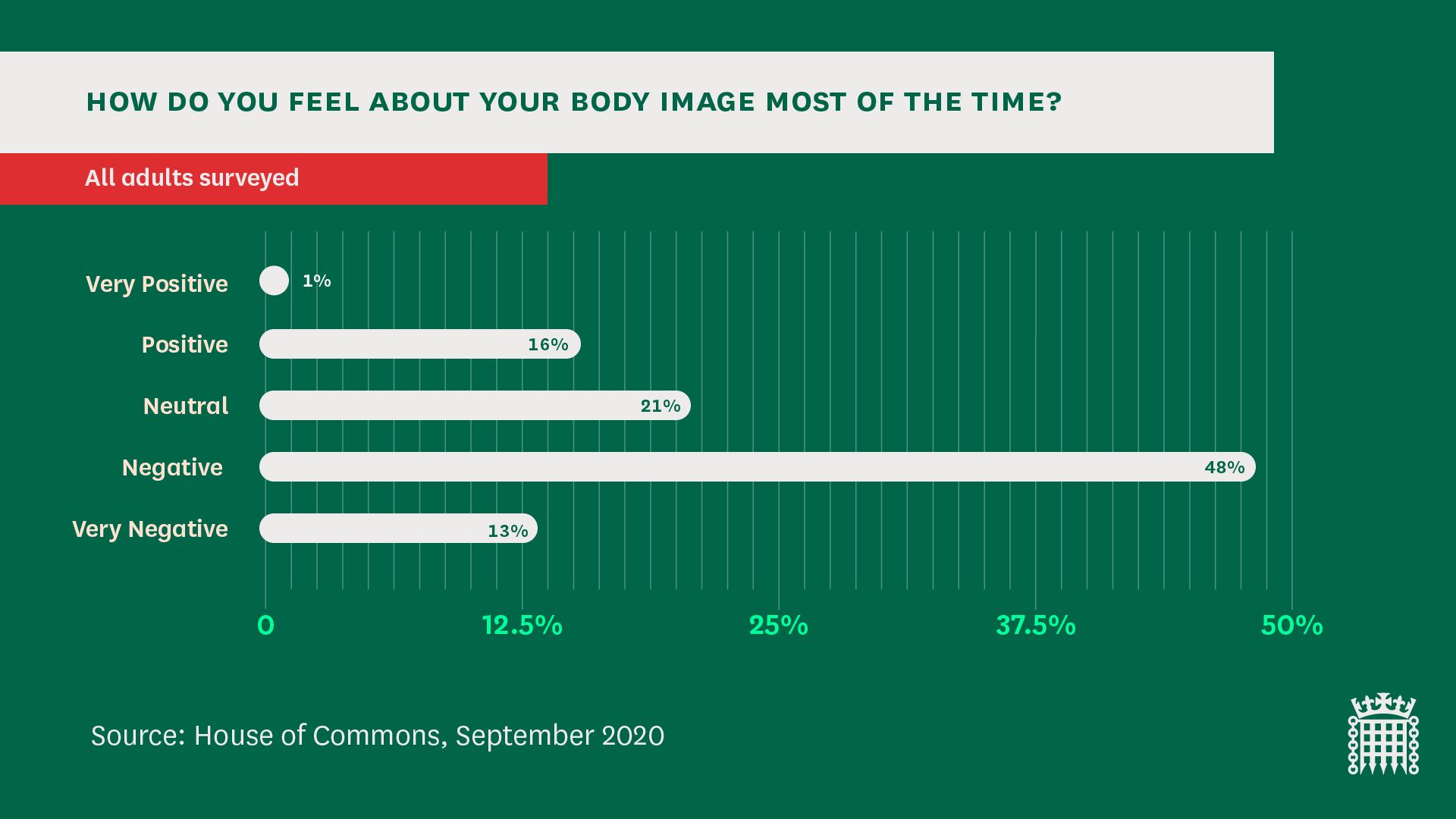 "It's all encompassing. I'm ashamed of my weight and think about it all the time. It stops me from doing things i want to do. Holds me back from being 100% me." (Male, 25-34)
"I always try to tell myself it doesn't matter, and to think of it neutrally. But my unhappiness with my body image is so pervasive, and I don't think it's all in my head. Society consistently reminds us everyday to look a certain way."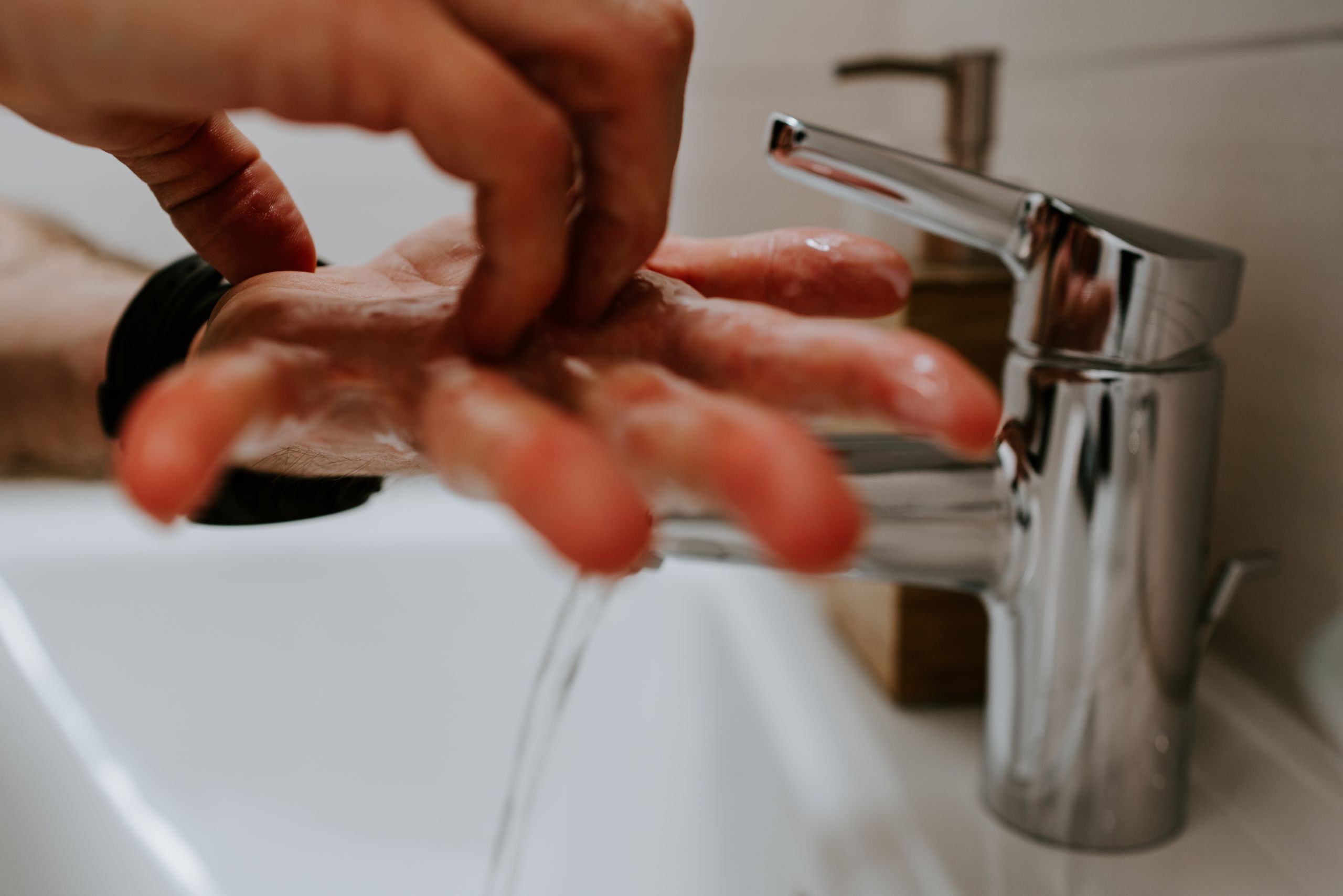 2. Lockdown made people feel worse about their body image 
53% of adults and 58% of under 18s reported feeling 'worse' or 'much worse' about their body image during the lockdown.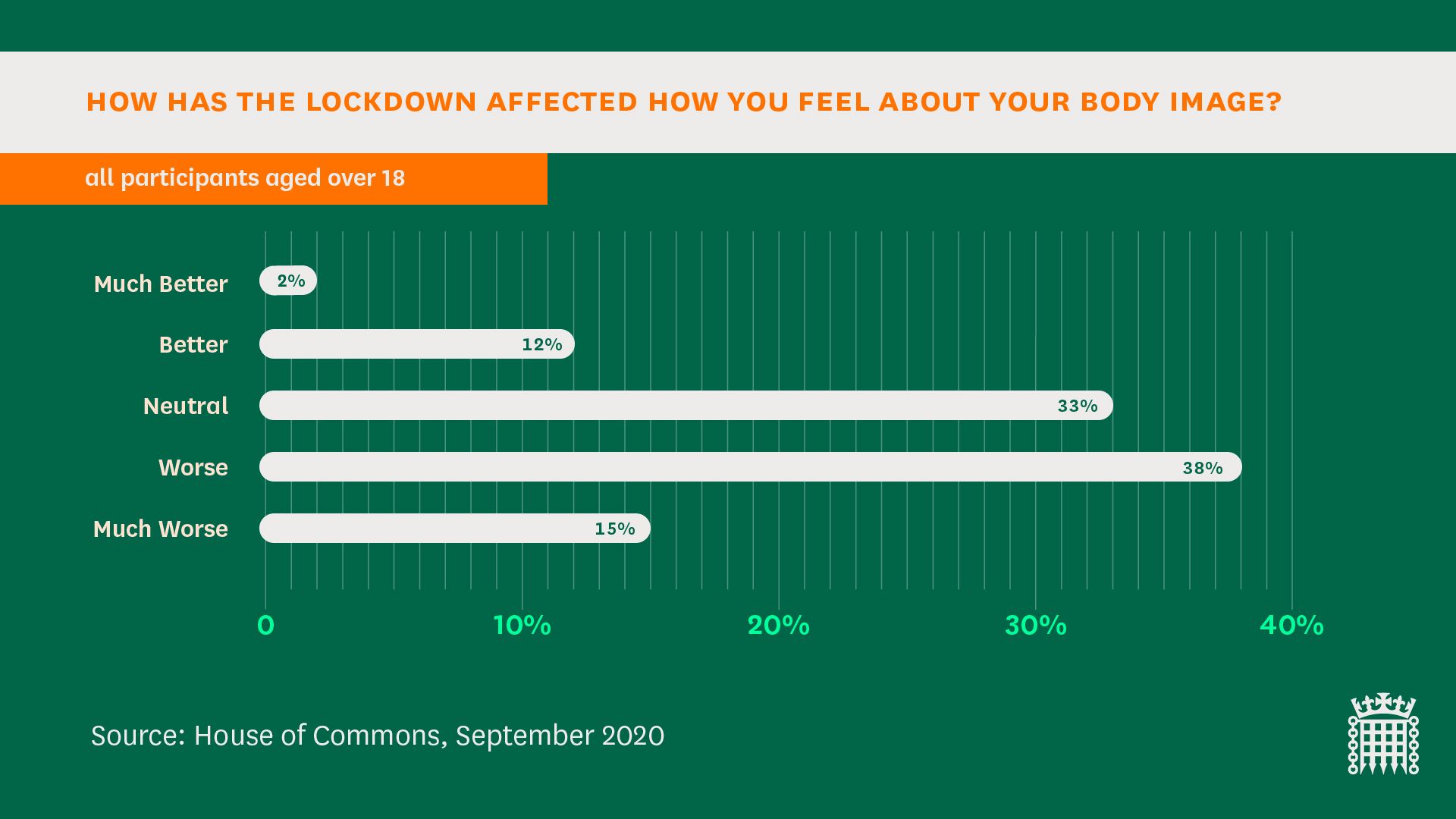 "Diet companies & 'influencers' using lockdown as an excuse to push diet products is incredibly sad & harmful. Especially for myself who is pregnant & already feeling under strain."  (Woman 35-45)
But 14% of adults and 16% of under 18s reported feeling 'much better' or 'better' 
"I'm very thankful to the LGBT community online for being supportive and even just posting selfies, as I almost never get to see positive depictions of trans people like myself in media / newspapers. Lockdown has given me a break from having to scrutinise my appearance every morning to avoid harassment when I go out!" (Man 25-34)
"Lockdown has made my body image worse due to being able to spend my time on social media and just having time to sit in front of the mirror for ages" (Girl 15-17)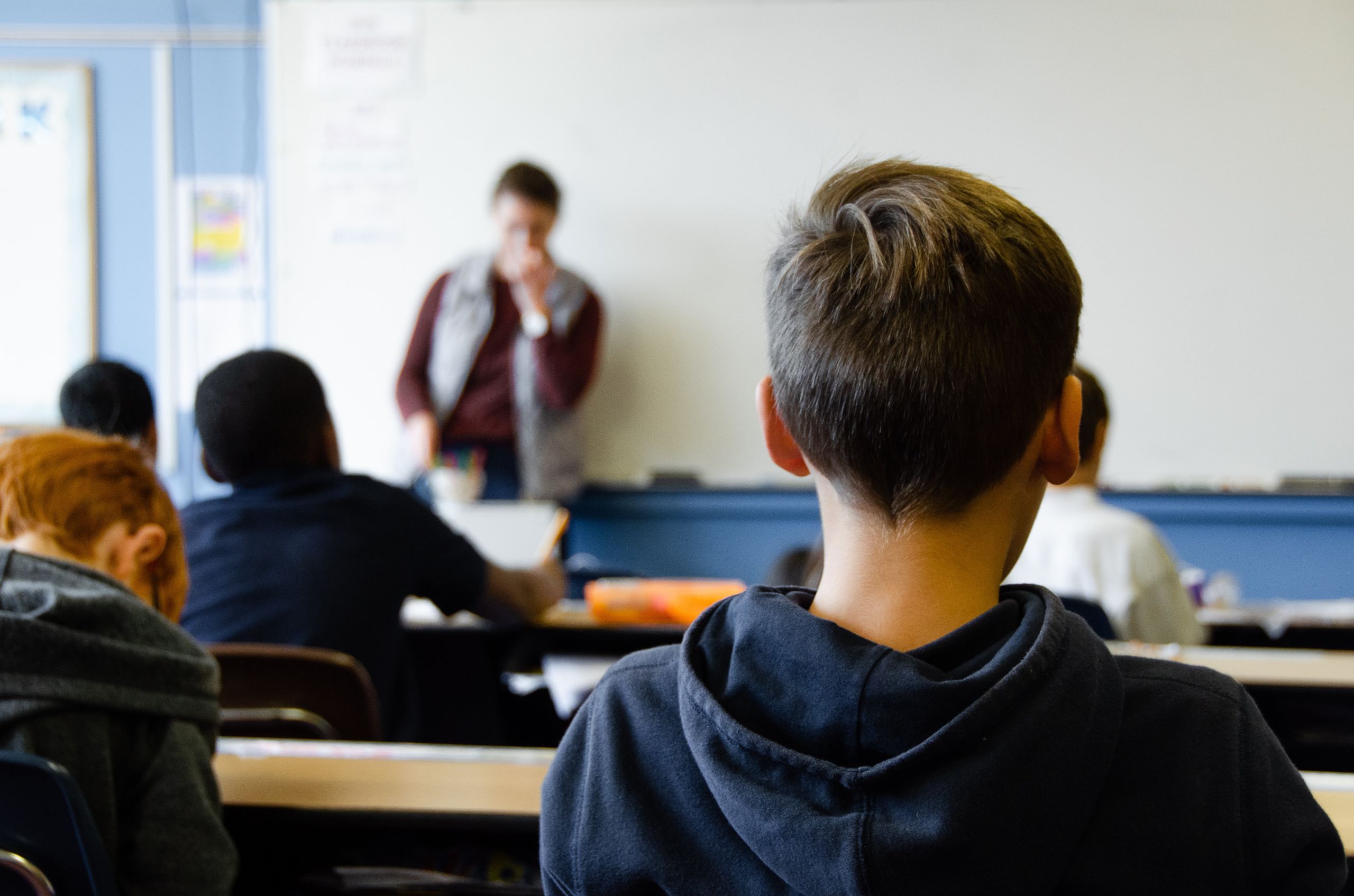 3. Under 18s want to learn about body image in school
70% of under 18s said they hadn't learned about positive body image at school and 78% of all under 18s said they would like to learn more about body image in school.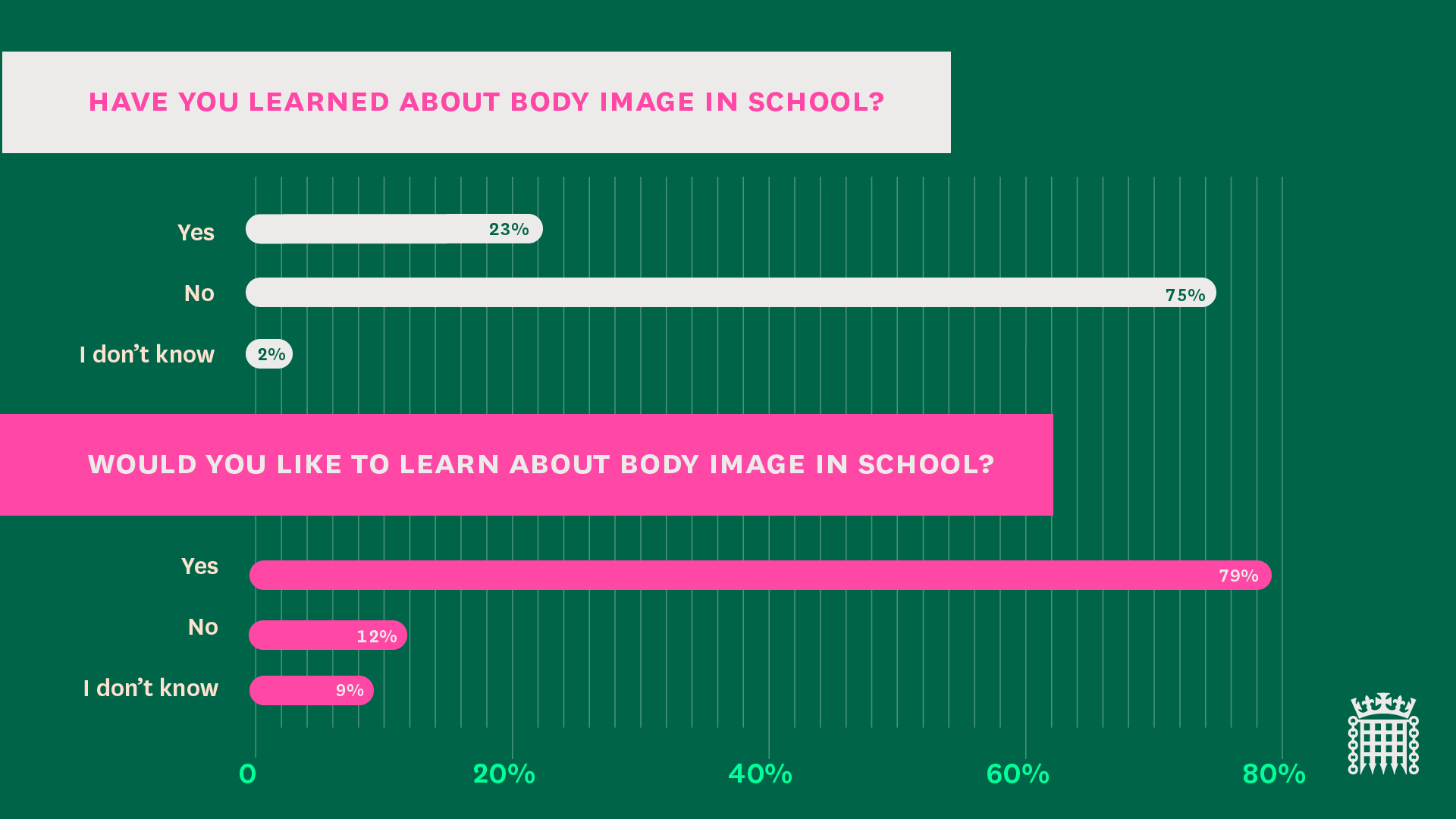 "Should be taught from a VERY young age about caring about personality more than looks. Like when you are learning how to count, so it is drilled into you from a young age" (Boy 15-17) 
"I think it needs to be taught from a young age that the way you look is perfect. Ads including anything to do with appearance should not be shown to anyone under the age of 18 on social media. Young children are very impressionable." (Girl 15-17) 
And people working with children told us of the strain their body image is under.
"Body image is HUGE and greatly impacts both men and women. I see this first hand in schools. Children as young as in year 4 are affected and it needs to be at the forefront for businesses and social media" (Woman 25-34) 
"I teach PE in a secondary school. Mainly to girls. The effect social media has on their body image is devastating and extremely dangerous. They want to grow up far too quickly and become over sexualised from a very early age. Its hard to witness." (Woman 35-44)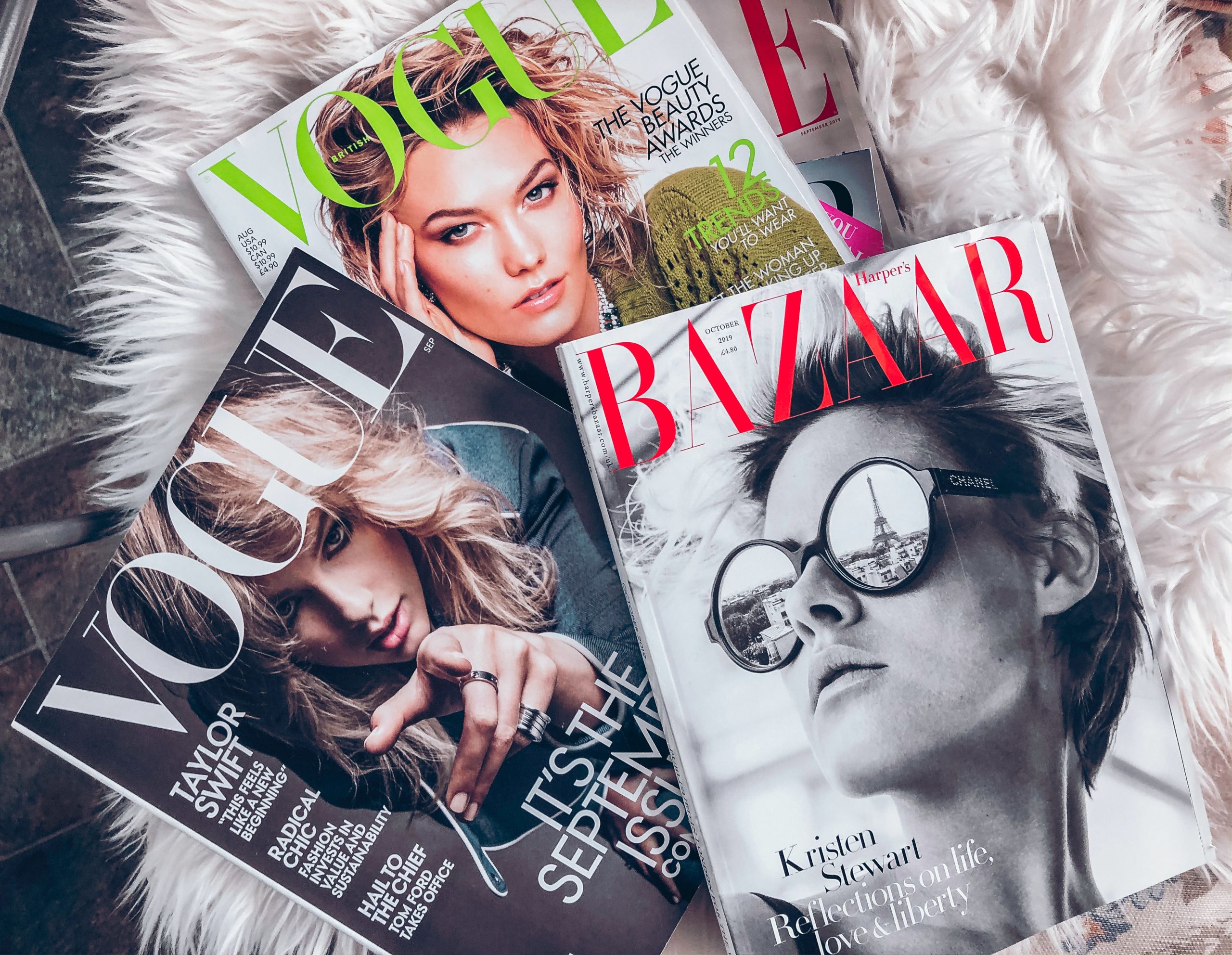 4. People don't feel reflected in the images they see in media and advertising  
57% of adults reported 'rarely' or 'never' seeing themselves or people who look like them regularly reflected in images in media and advertising.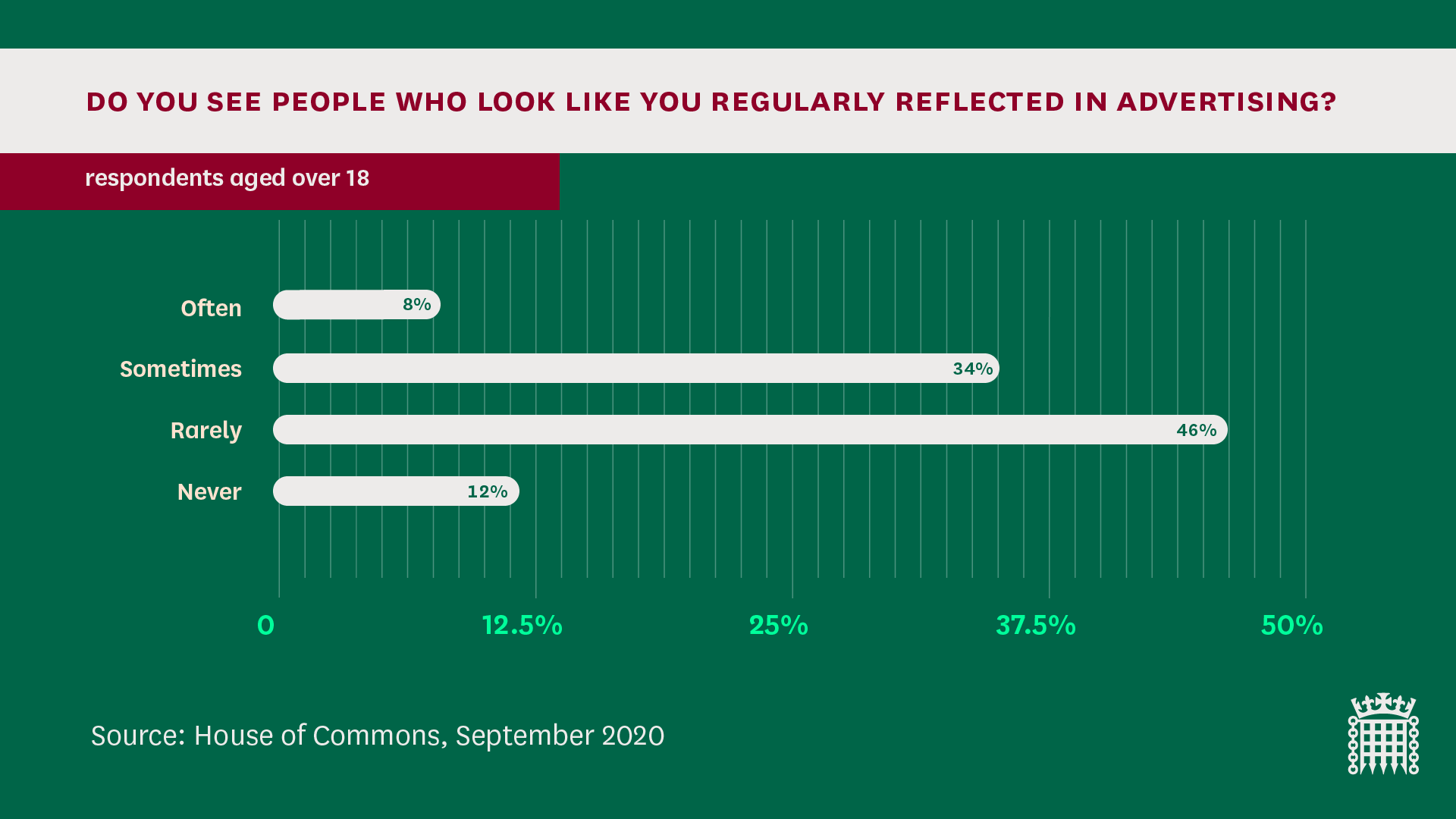 "I would love to see more people online and on the TV that look normal. I would also love to see no more adverts on all Platforms for weight loss, and extreme exercise. I want to see normal people my age with real bodies of all shapes, sizes and abilities & colour!" (Woman 45 -54) 
We need more representations of bodies - trans, queer, Black, curvy, disabled (Non-binary 25-34) 
"My image affected by colourism in every media." (Woman 45 – 54) 
"I am disabled and have literally never seen a woman with my disability represented in any kind of media " (Woman 18-24) 
5. Images on social media have a big influence on young people and adults 
The majority of under 18s (and to a lesser extent, adults) told us that 'images on social media' are 'extremely influential' on their body image. We have been told how damaging social media use can be for people's body image.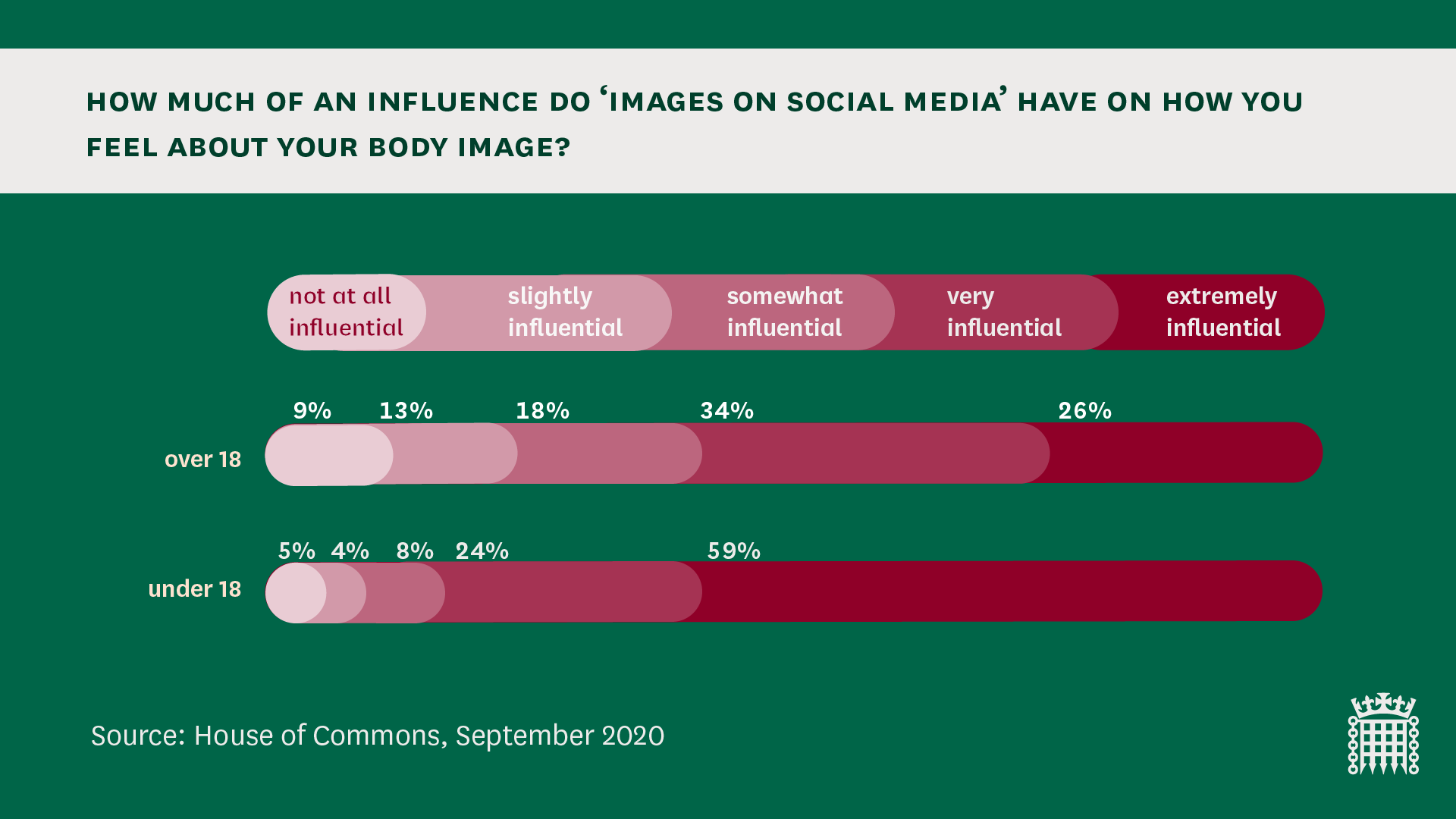 "As a clinical Psychologist working with children and young people the impact of [poor body image] is apparent younger and younger. They are less able to ignore the "ideals" pushed via social media.  In addition, as someone who has recently become pregnant […] Social media is already flooding me with "bouncing back" to "pre-baby body" advertisements. Very very unhelpful." (Woman 25-34) 
"I'm thin and underweight but I am trying to come to terms with the fact I'll never have a flat stomach bc it's not really possible and the pictures influencers and advertisements take can be altered, have camera angles and tricks to make someone not seem true." (Woman 18-24) 
"I deleted tiktok from my phone because it was having an effect on my body image and exercise and eating" (Man 25-34) 
But we also heard of the positive impact it can have 
"As a plus size, mixed race women there is often limited positive 'traditional' media focus. However, there are now a lot more 'content creators' who reflect who I am and how I look. Although there are a lot of negative connotations with social media the ability to see people like me on a daily basis is amazing, although you often have to actively seek these people out rather than it being part of the norm." (Woman 25-34) 
People told us that when using social media, they encounter adverts that negatively impact their body image. We found that 86% of adults and 76% of under 18s have seen adverts for weight loss organisations when using social media.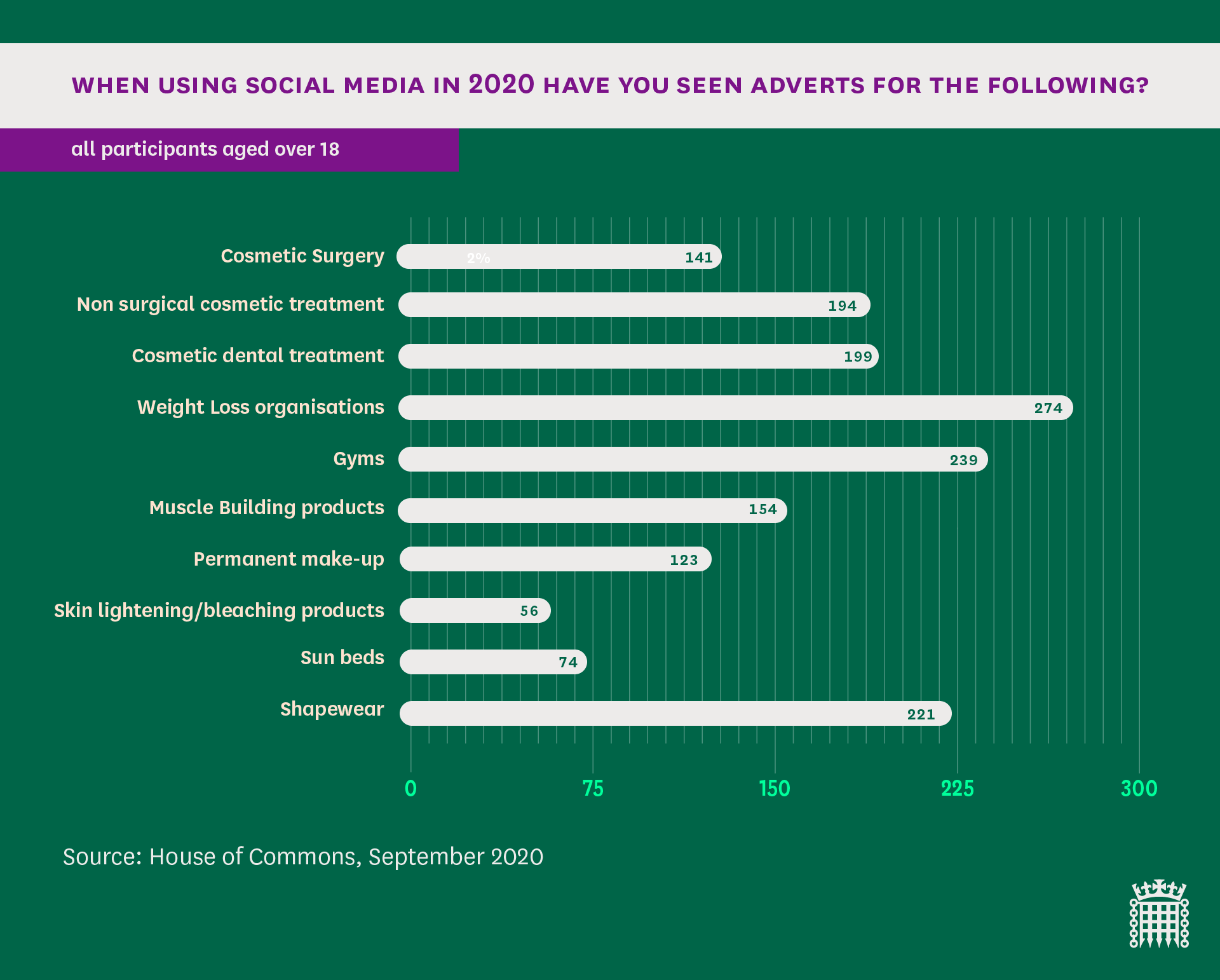 "I try very hard to follow social media that boosts my body image and shows diversity however I find advertising and news stories still creep through into my feed. I'm particularly concerned about ads on snapchat as most if not all are about "improving your body" and I'm worried about the impact it has on younger users given that i sometimes find it hard and I'm 20. I've not seen this bought to attention anywhere so please do!!!!" (Woman 18-24) 
"It's taken a lot of work to stop comparing myself so much to others, but I still do it somewhat unconsciously/somewhat consciously at times. Most of the time those comparisons are triggered by images in the media and on social media. Part of the work I've done has been to stop following people on Instagram in particular that make me feel inferior (in terms of body image). Yet adverts that appear most noticeably on Facebook and Instagram are often for diet supplements or exercise programmes promising exceptional results." (Woman 18-24)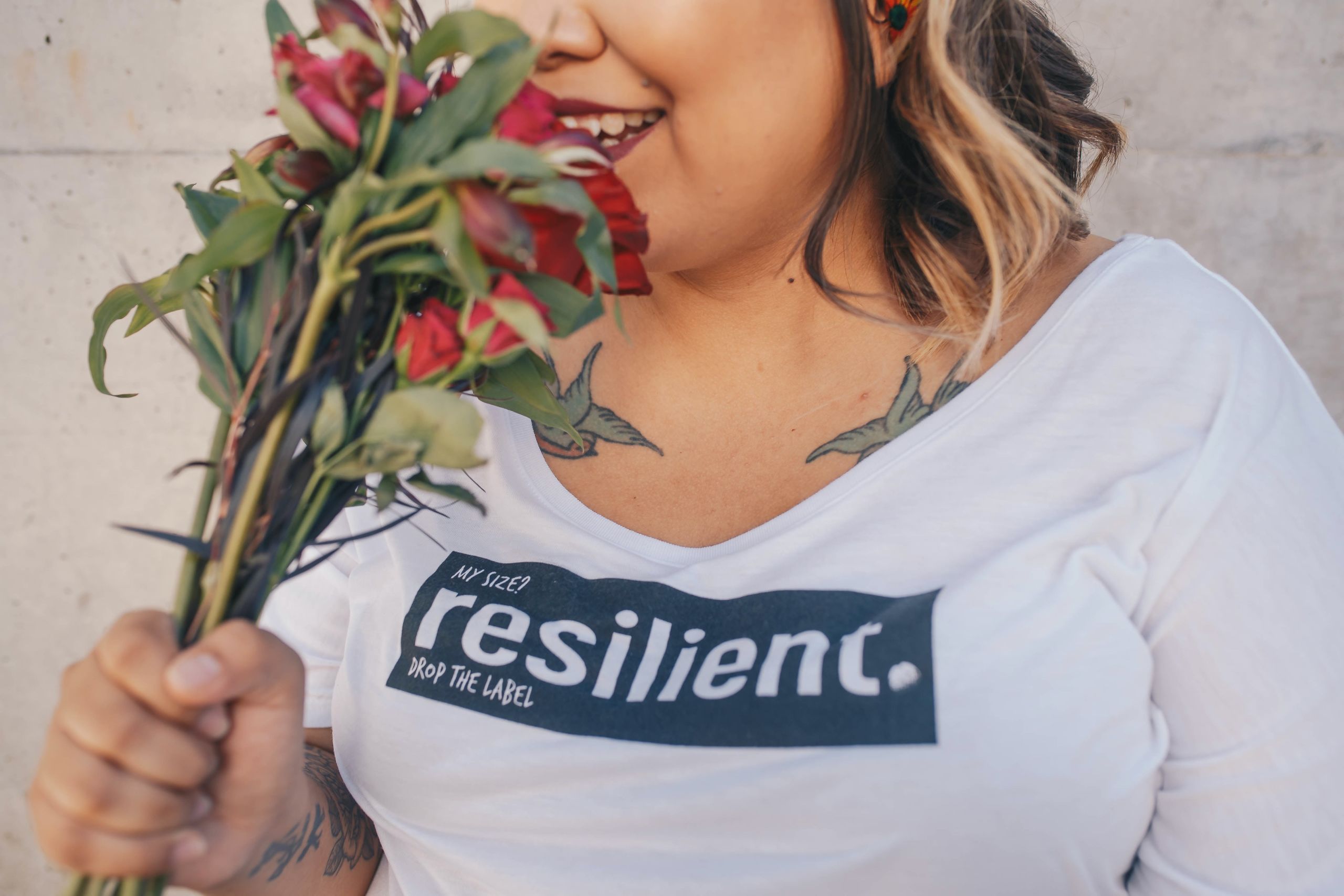 6. People want change 
People of different ages and backgrounds told us the changes that they want to see to reduce the amount of people suffering with poor body image 
"It is from the medical community that I feel most shamed for my size 16-18 figure. BMI should be abandoned as a measure and all GPs and health professionals should receive training on Health At Every Size." (Woman 35-44) 
"Body image should be talked about early on in schools and parents given help and advise to talk about it too. Advertising agencies, fashion magazines, films and tv shows etc should be regulated so they are not allowed to use models or actors/actresses with unhealthy BMIs. The 'weight loss' and diet industry and also the junk food and sugary snacks industries should be regulated too." (Woman 25-34) 
"I deal with Body Dysmorphia (BDD). I think there needs to be more awareness raised of this condition, especially for men, as it can be extremely debilitating. […]I think that in general social media and social pressures, including unhealthy and unrealistic beauty standards, created, or at least imposed by the media, are a huge issue". (Man 25-34) 
"I have so many friends who have had/have eating disorders and so many friends that have been affected by having negative mental health […] We need more funding for mental health. We need better support for young people. We need to improve the way people see themselves. Fat is not bad and diet culture is toxic. We need help." (Girl 15-17) 
"The media DESPERATELY need to be more inclusive, with different body types, different races, people with different disabilities even down to showing people with hearing aids being shown. Major change need to happen to allow everyone in society to feel body positive." Woman (18-24)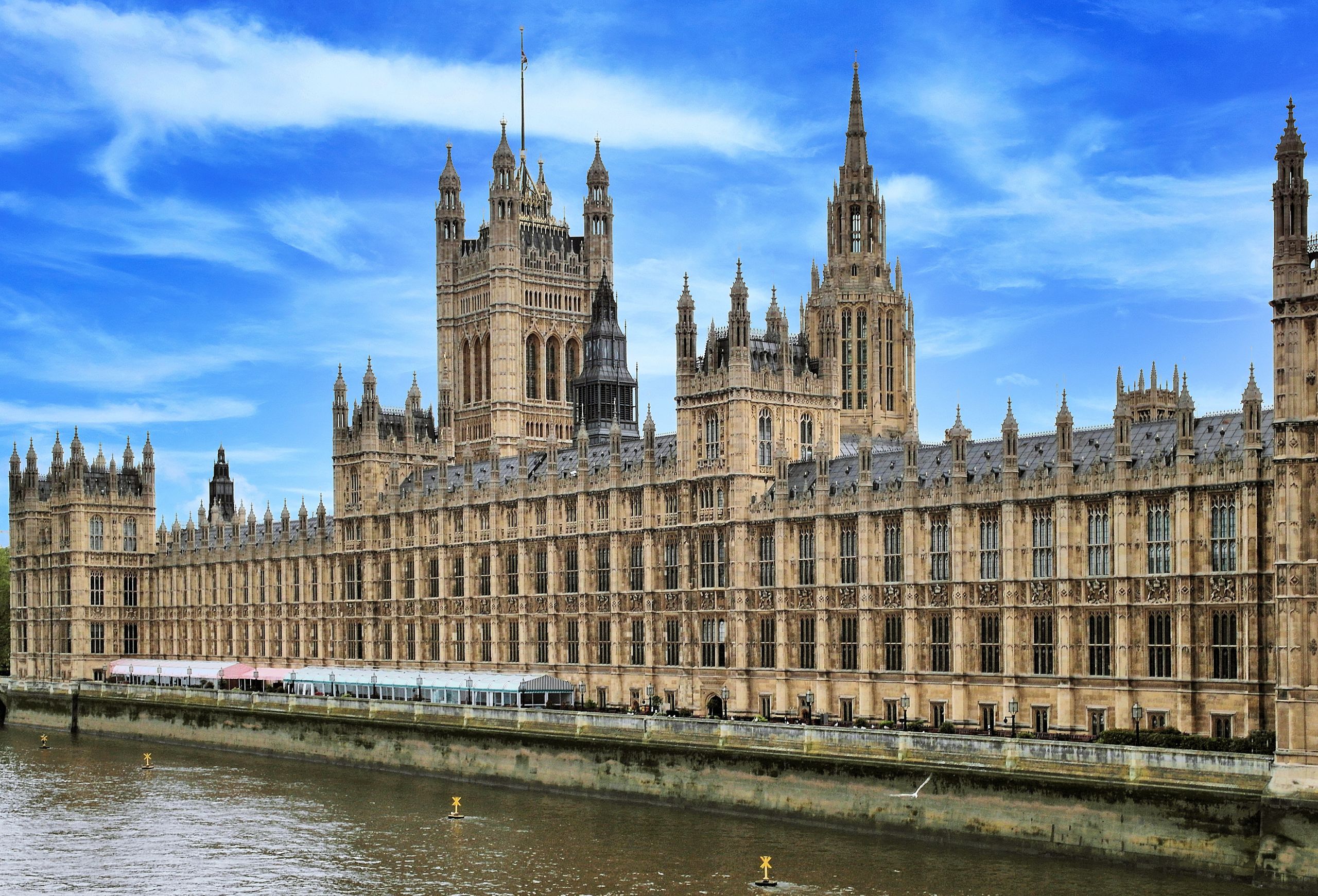 You can read the full report of our findings.
Now that we have all this information and a clear understanding of what you feel about your body image. We have invited experts in the field to come to Parliament to tell us more.
For the final step of our investigation we will write and publish our report summarising our findings and listing recommendations to the Government to help solve these problems. The Government will have to read and respond to the report in 8 weeks.
To follow the progress of this investigation and the report you can check our website. You can also follow us on twitter for updates.
You can find out more about the other work we do as a committee on our committee website.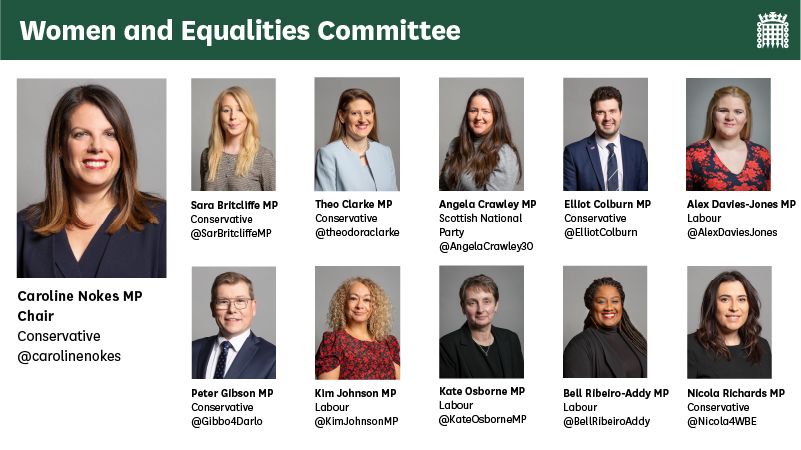 The Women and Equalities Committee examines the work of the Government Equalities Office (GEO). It holds Government to account on equality law and policy, including the Equality Act 2010 and cross Government activity on equalities. It also scrutinises the Equality and Human Rights Commission.